Welcome to Falkrigia Shepherds, the Crafty Woodchuck and Appaloosa Acres

We Offer a 10% Discount On Trophies and Judges Gifts
THE CRAFTY WOODCHUCK EXPERIENCE
OUR HISTORY
Originally from West Virginia, Gene Workman now lives in the rural town of Hephzibah, Georgia - just a stone's throw from Augusta. From a long line of expert Woodworkers, Gene loves the challenge of unique and beautiful craftworks while also doing such projects as custom cabinetry and exquisite hardwood wall units.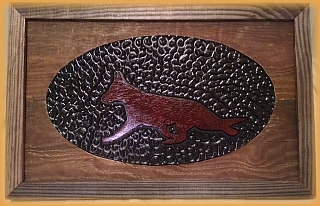 His wife and partner, Lynda does carving and woodburning to add further dimension to Gene's creations. She also finds tremendous pleasure in turning a personally hand-picked mountain stone into an original artwork in her "Art on the Rocks" collection.
Lynda and Gene frequently incorporate their love of training and exhibiting German Shepherd Dogs into their work. Known in that world as Falkrigia Shepherds, they divide their weekend time between dog shows and craft exhibitions - occasionally combining the two when circumstances permit.
Lynda also does extensive work with decorative canine and equine gourd art and is an avid photographer - offering Limited Edition prints of some of her favorite original photographs along with notecards and greeting cards.
She is also the creator of a new line of Equine and Canine fun artworks..."Deco Pups, Ponies and Purrs"..... available in almost any size and can be custom - designed to your own desires.