Welcome to Falkrigia Shepherds, the Crafty Woodchuck and Appaloosa Acres
BEAUTY OF MIND, BODY, AND SPIRIT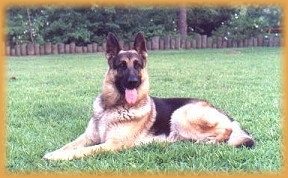 RELOCATED TO EXCITING NEW HOMES
GrCh Divna's All Things Considered of Falkrigia RATN TC OFA Hips and Elbows
aka Palin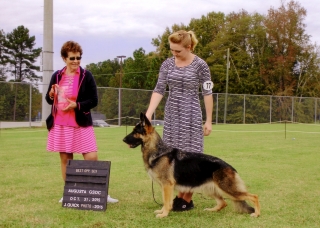 (GrCh Kaleef-Jaepaul SanJuan Diego Falkrigia OFA x Divna's Moonlight Sonata OFA (GV Aregon dtr)
DOB - 11/22/2012
Ch Palin finished her Championship as a very young girl and spent time maturing at home before starting her Grand Championship campaign.
Shown only very sparingly the last couple of months of 2015 she quickly amassed 11 Grand Championship points with 3 majors under 3 judgesand then finished her Grand Championship in great style :-) She won in specialty and all-breed venues and always had a great time :-). This is a very special Diego daughter with what we hope is an excellent future in show, performance and eventually the whelping box. She is currently enjoying barn hunts with her buddies Edgar and Aiden.

Palin shown going Best Puppy (both days) at the Augusta German Shepherd Dog Club shows in September 2013 under judges Kathy Potter and Dick Jones.
Palin is a littermate to Marco who was pointed from the 6-9 class.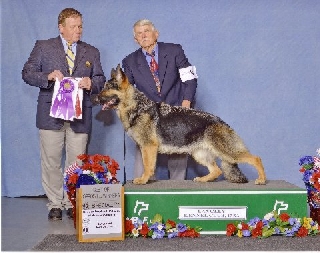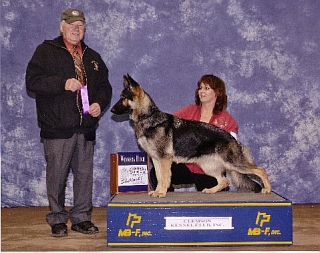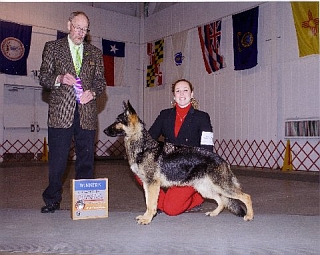 CH Falkrigia-Ropaja's Passion for Glory OFA Hips and Elbows
Ziva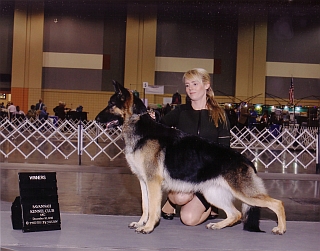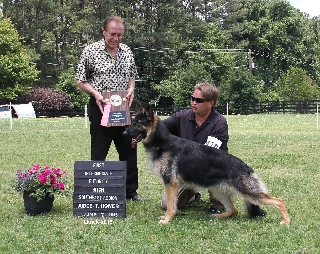 (Ch Campaigner'sLindel Time Traveler TC RN OFA x GrCh Ropaja's C'est Cache' ROM CD BN RN TC ROM OFA H/E)
DOB 2/19/14
Ziva ia another member of the Travis/Cache' litter making their sire and dam proud. Ziva is a lovely, spirited, dark bitch with great temperament and trainability. She is already being prepared for a performance career in Herding once her Grand Championship is completed and she is currently available for lease to an approved breeder looking to do a quality breeding
See Our Pedigree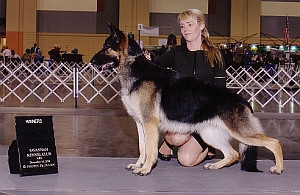 Ziva with Ashleigh Oldfield going WB in Savannah GA 2017

Falkrigia's Wicked Hot This Way Comes
aka Scorch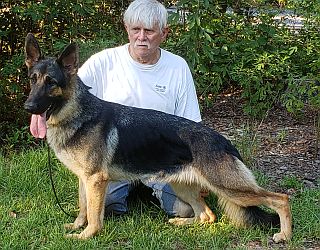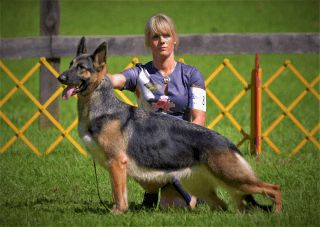 (GCh Falkrigia's Zen Trial By Fire CD BN RE HT RATN CGC TC OFA H/E x GCh Divna's All Things Considered of Falkrigia RATN TC OFA H/E)
DOB: 1/10/18
Known as Scorch, this little girl is her mother, Palin, made over......dynamite temperament, great personality, lovely structure and a driving mover.
She is just starting to be shown but we are expecting great things from her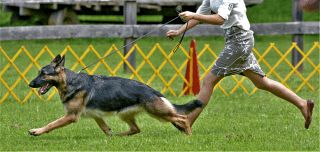 Ch Falkrigia - Ropaja's Rising Up To The Challenge
aka Apollo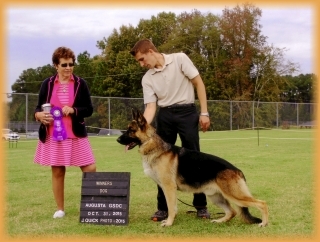 Major in Augusta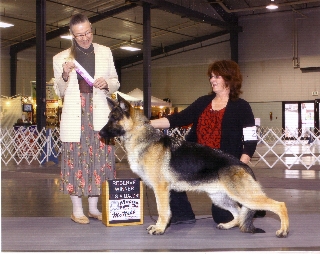 RWD for major reserve 5/9/15
See Our Pedigree
(Ch Campaigner'sLindel Time Traveler TC RN OFA x GrCh Ropaja's C'est Cache' CD BN RN TC ROM OFA H/E)
DOB 2/19/14
Apollo is happily living and loving his new home with James Crow and his family.

Falkrigia's So Dance With The Devil
DOB - 4-14-04 aka Bolton
photo at 9 months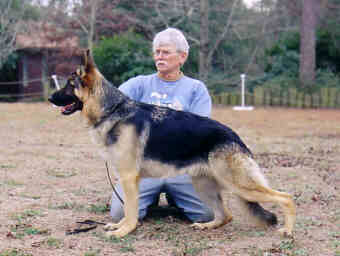 (Ch Kaleef's Bold Ruler of Falkrigia HIC OFA v TR-Kenlyn's Vixen v Falkrigia HIC OFA)
Littermate to Fire and Major, Bolton looks strikingly like his father, Ch Bold Ruler. He has a strong temperament with a sweet and comical twist to it. He takes a beautiful step when he moves and is very heavy-boned and
plush-coated. Bolton is a neat pup and a fun youngster to watch grow up.

Bolton is now in residence with new owner Dr Melinda Moretz



Falkrigia's Falkrigia's Special Ops
DOB - 4-14-04 aka Major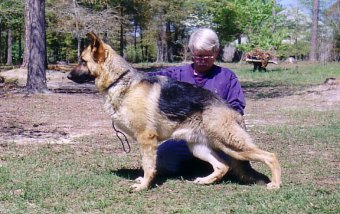 (Ch Kaleef's Bold Ruler of Falkrigia HIC OFA v TR-Kenlyn's Vixen v Falkrigia HIC OFA)
See our pedigree
Major is a very large male with a magnificent head, correct heavy bone, plush coat and outstanding structure and movement. He has a confident, sweet but protective disposition and seems to take everything in stride. We expect him to have a great career.

Major is now in residence with new owner Marie Smith.




Falkrigia's Dark Shadows HIC
aka Vamp - DOB - 4-16-04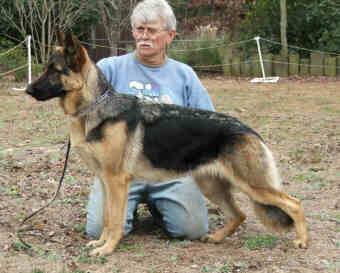 (Falkrigia's Quothe The Raven CD BH TC HIC CGC v Greenbriar Farms' Xtra Special)
See our pedigree
Vamp is a very pretty girl with a great mind and excellent
trainability and a very nice front reach. She is german/american lines.

Vamp is now in residence with her new owners, Bob and Joan Schenkel.



Falkrigia's Valor v Danhoffer HIC aka Cane
(Ch Sturdevant's Second Wind x Ropaja-Falkrigia's Chateau Sami)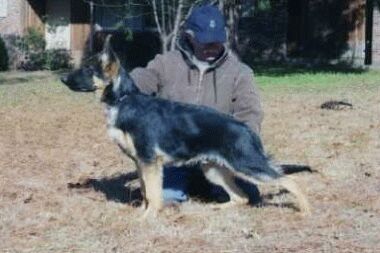 Cane is a live wire young male from Bay St Luis,
Mississippi whose arrival barely missed coinciding with that of Hurricane Katrina. He was co-bred by Scott and Barbie Balyeat and shows tremendous
potential for just about everything and anything at this point - including great Mischief !!


Here Cane is at 12 weeks
Cane is now back with Scott and Barbie training for a career in Search and Rescue which he should excel at.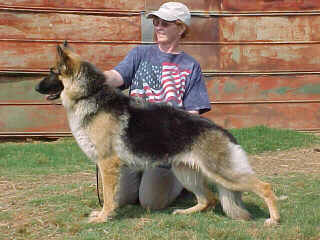 Falkrigia's Ragged Edges HT
DOB 7-31-01 aka Maggie
(Ch Falkrigia's Take No Prisoners CD BH TC HIC x Zina (GV Uzi daughter))

Placed with Ch Trouble and his family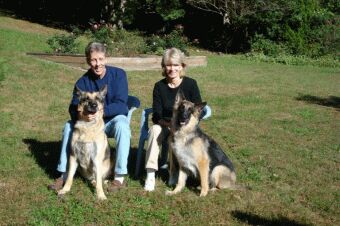 Ch Trouble and Maggie with Bayne and Ann Norris



CH Falkrigia's Bad Moon Risin'
"Trouble"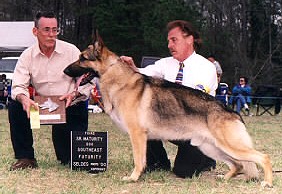 OFA OFA GS58789F24M-T
(Sel CH Breauhausen's Red October ROM v Ch Windwalker's Utah v Falkrigia CD TT HIC ROM)
See Our Pedigree

'Ch Trouble' is one of those high-energy, 'fun' dogs who always seems to love life and have a good time whereever he goes. He has passed this same attitude and exuberance on to his first offspring. He has a wonderful personality and is a very large, extremely powerful dog with balance and suspension. He is very clean coming and going and, yes, he DID earn his name.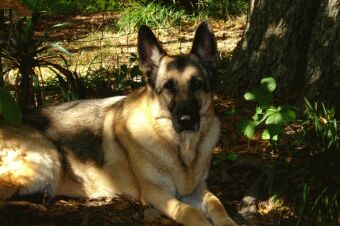 'Trouble' is now in residence with his new owner Bayne Norris in Charlotte NC




Falkrigia-Skautdog's Shenandoah HIC aka Belle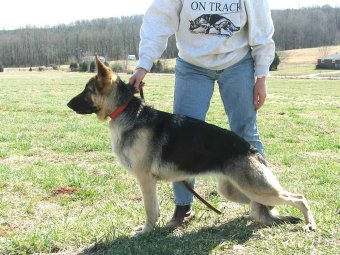 (Ch Kaleef's BoldRuler of Falkrigia CD HIC OFA x Tr-Kenlyn's Vixen v Falkrigia HIC OFA)

Belle is owned by Ken and Liz Besecker and is co-owned by Falkrigia. She has a fiery, outgoing personality and enjoys life to the fullest in everything she does.



Falkrigia-Caphalo Dragon's Knight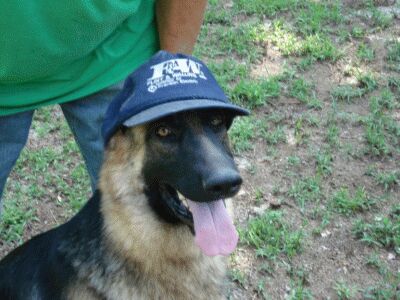 (Ch Falkrigia's Rastus B Dragonfire HT RN OFA x Caphalo's Jolene)
DOB : 7/26/06

A littermate to Questor and Feathers, Knight is a totally loving, fun,
sweet boy with lovely movement, plush coat and gorgeous bone and substance. He has been only lightly shown but we believe he will have a super career. We couldn't be happier with this litter.
Knight is now in residence with Claudia Ballas - life-long owner of Raven's 13 year old sister Patra.



Ch Cedar Run's Aros v Falkrigia
aka Zoom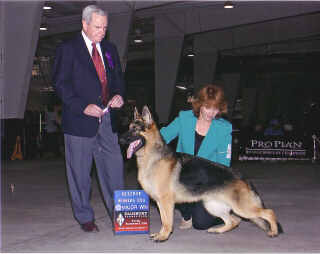 (Ch Kaleef's Man O War Falkrigia CD HIC OFA x Falkrigia's Brina of Cedar Run OFA)
DOB 4/29/03
Zoom is a magnificent Man O War son who finished at a very young age and
will now, at full maturity, begin his Specials career. He is a heavy-boned,
plush, deep-bodied, beautiful mover with a gorgeous head and impressive
presence both in and out of the ring.Zoom is now owned by
Dino Miraglia of Brazil and has started his International specials career out
in great style. We're excited about his success so far. Watch for updates in our
'Hot news' and 'wins' sections.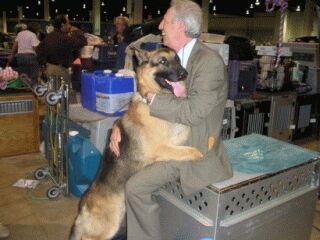 ---And he adores Jim Moses



Buzz with new owner Charlie Brown and pal Avery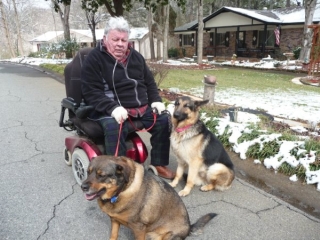 Buzz playing with pal Avery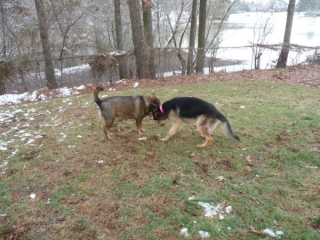 Click here for more on Buzz



Falkrigia's Zigeunerflamen aka Ziggy owned by the Ritchies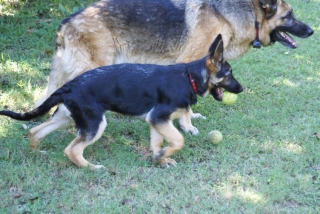 Falkrigia's Zauberhaufter Tristan aka Tristan owned and loved by Phuc
Nguyen-Dinh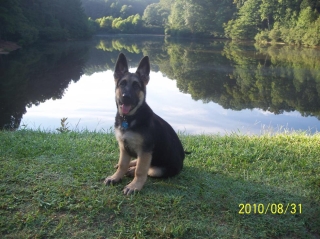 Ch Falkrigia's Take No Prisoners CD TT HIC BH "Vachon" x Falkrigia She's A Little 2 Hot 4 Me OFA Good

See our pedigree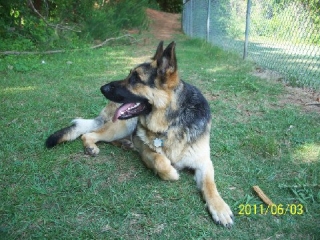 Falkrigia's Twice Quothe The Raven
aka Buzz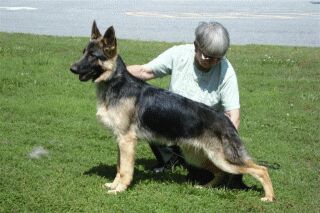 Ch Kaleef's Bold Ruler of Falkrigia CD RN OFA x Falkrigia's Night Heat RN TC OFA
pictured at 7 months of age
DOB - 9/24/07

See our pedigree

Buzz is now happily living on co-ownership in Marietta, Ga with Charlie and Jane Brown and new canine buddy Avery. We're delighted that he settled in so beautifully with them and that he has such a wonderful home. Hopefully you'll get to meet them at some of the local shows as Buzz will continue to be 'out and about' in the ring from time to time. :-)

Click Here to see more of Buzz





CH Kaleef's Raptor of Falkrigia HIC
aka Torry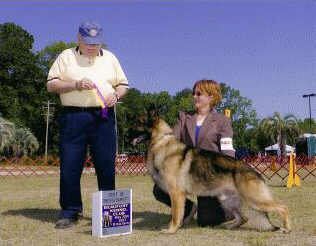 DOB 12-7-04

Another Ch Man O War offspring, Torry is a delightful sable with a
great attitude. He has his sire's wonderful mind, bone, movement and athleticism.

He is now owned by Bayne and Ann Norris who own Ch Trouble and Maggie.





Falkrigia's On Raven Wings of Mana
aka Birdie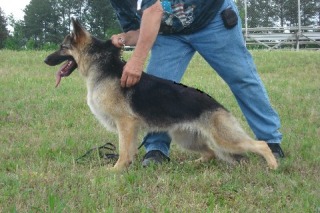 (Ch Kaleef's Bold Ruler of Falkrigia CD RN OFA x Falkrigia's Night Heat RN OFA)

Litter sister to Buzz, Birdie is a livewire with an Energizer bunny personality :-)In reality, she's a lovely girl - petite, agile, beautiful and fiery.

Birdie is a little on the small side for the show ring and she is high energy

See our pedigree


Twister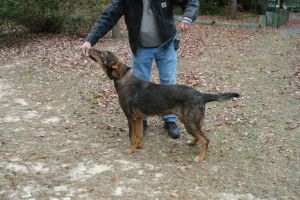 Twister is now a beloved member of the family of dogs owned by Marcia Geraci and is enjoyiedthe wonderful life of an indoor guardian and companion. Thanks to Marcia for giving this great dog an equally great home!!

October 20th, 2013 weekend was a sad weekend for us and for Marcia Geraci. Our beloved Twister who has been
living a great life at Marcia's beautiful farm for the last few months died instantly of an apparent heart attack Saturday evening while out in the yard with Marcia and his running mate Wren. Twister was a very large, very active GSD mix we took into rescue as a baby and raised. Sad day but so grateful to Marcia for
the wonderful times he had being the King of the Kingdom at her place living indoors/outdoors as he pleased and ruling the roost I am so happyhe had that experience in life of being 'very special' and 'very loved'. He was the rescue pup no one wanted ... too big, tooo active, too non-GSD with his down ears but all these years he was a truly wonderful dog who deserved all the love he got because he gave all the love he had.

Please Foster ..... Sometimes you are truly 'entertaining angels'.


Kaleef's Renee v Falkrigia HIC OFA
aka Wren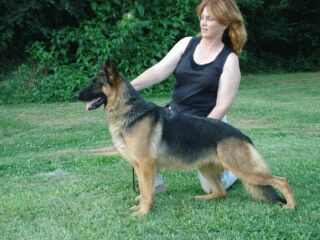 (Ch Kaleef's Man O War Falkrigia CD HIC OFA x Kenlyn's Asta of Kaleef)

DOB 12-14-04

Wren is a sweet, gorgeous, plush, deep black and red, german/american combination with beautiful bone, deep, dark eyes and excellent movement Wren was major pointed before retiring from the show ring to the whelping box. Wren recently joined Twister at the wonderful home of Marcia Geraci which delighted both dogs. We are so happy she was there with Twister during his last weeks before his unexpected and very sudden death from an apparent heart attack. We know she will continue to have a wonderful life with Marcia.




Falkrigia-Caphalo DragonFeathers RN HIC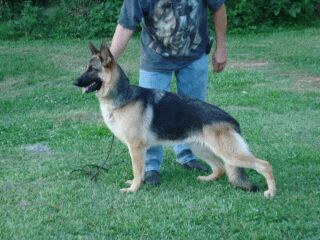 (Ch Falkrigia's Rastus B Dragonfire HT RN OFA x Caphalo's Jolene)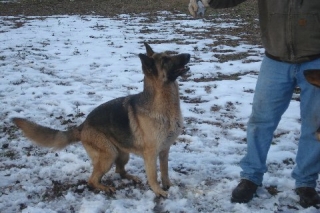 DOB : 7/26/06
Littermate to Questor and Knight, Feathers is a dynamic little fireball who should be a lot of fun both in and out of the show and performance rings. She never meets a stranger and loves to please. She is already pointed and Herding Instinct Certified and exhibits her father's wonderful aptitude for the work
Due to hormonal issues which could not be resolved, Feathers has been spayed and placed in a new home. Feathers has settled beautifully into a new life with Jaime Franks and her mom and it seems she will have a forever home now with Jaime or her sister.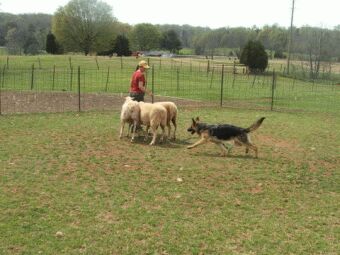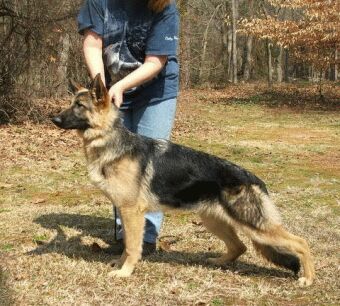 Click Here for Pedigree



Falkrigia's What Wicked Games We Play
aka Anyanka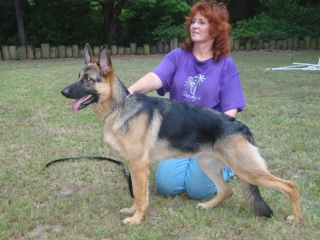 (Ch Falkrigia-Caphalo's DragonQuest x Kaleef's Renee of Falkrigia)
DOB - 1/2/12
Photo at 8 months of age

Anyanka is owned with Jaime Frank and will be shown sparingly as a youngster until she matures. She shows great promise as a tremendous mover at this age so will be put into serious training in a few months.





Falkrigia's Something Wicked This Way Comes
aka Pistol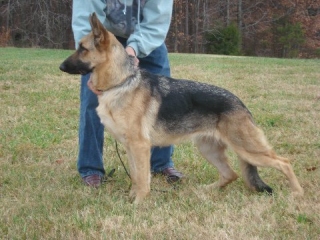 (Ch Falkrigia-Caphalo's DragonQuest x Kaleef's Renee of Falkrigia)
DOB - 1/2/11

Pictured at 9 months old, Pistol fully earned her name striking fear into the hearts of all the male pups who thought they could take her down :-) She is a large puppy with a superb attitude and a really nice, easy sidegait. Her sister Anyanka (Falkrigia's What Wicked Games We Play) will be out in the ring.
Pistol is now living in comfort and unconditional love with the Wilchers where she'll be shown, trained and enjoy being a member of the family for hopefully many, many years to come. Thanks to Dean, Kari, John and Julia> for giving Pistol such a great future

Li'Lis Vaulting To Gold Falkrigia
aka Retton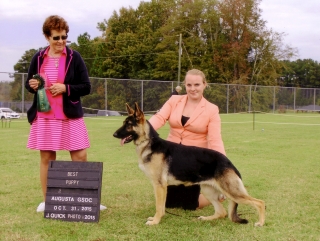 DOB 2/27/15
(GrCh Ch Falkrigia's Zen Trial By Fire BN CD RE CGC OFA x Kimberlite's Cold)
Shown winning her 1st of 2 Best Puppy awards in a rare puppy show outing, Retton is a lovely Zen daughter with a fun, sweet and willing personality who could have been a successful show dog most likely but one day the perfect home came along and Retton was needed there. She now lives with Lorena Barrow and her older GSD male Sherman who came from us years ago as well as two cats and a small dog and life is good