Welcome to Falkrigia Shepherds, the Crafty Woodchuck and Appaloosa Acres

We Offer a 10% Discount On Trophies and Judges Gifts
COMPANION ANIMAL FURNITURE



NATIONAL RIBBON AND PHOTO CASE
The ribbon display case is hand-crafted in your choice of hardwood and finish and can be sized to hold any length ribbon with or without photo section. It can be made as a single, double or to hold even multiple ribbons. The viewing section is plexiglas.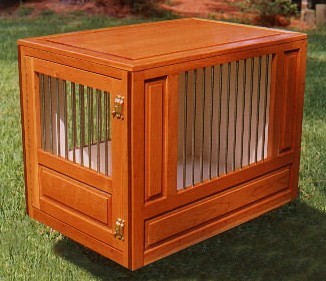 Our Famous Wood Crate
Handcrafted in a choice of fine hardwoods including mahogany, cherry, oak, poplar and pecan among others, each crate is fully laminated within, has stainless steel bars, screwed and plugged, plain or raised-panel construction and is inlaid with a contrasting wood - typically walnut.
Finishes can be closely matched to existing furniture and they can be built to any size or specification.

Comes in your choice of several styles. prices
depend on the choice of wood, size and style
"The ultimate in fine canine furniture"
CRATE MAHOGANY END TABLE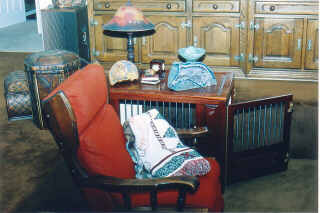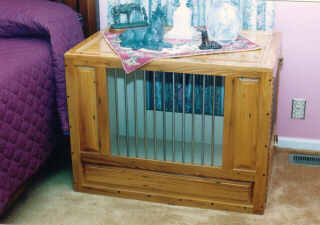 CRATE WORMY CHESTNUT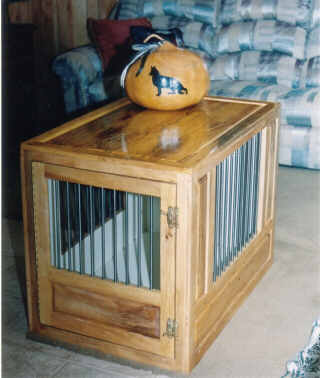 CRATE SPALTED PECAN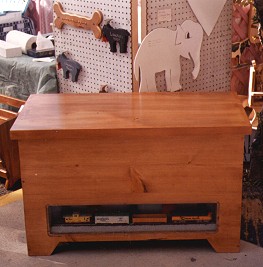 The Child's Toy Box
The perfect gift that will become a treasured heirloom, this piece is handcrafted in your choice of wood and finish and can be plain, inlaid, carved or contain a recessed, plexiglas-covered 'interest scene' (as
shown). Scenes can be of your choosing such as trains, dinosaurs, race cars, dog shows, farms, etc.

Please call or email for pricing based on wood, size and intricacy.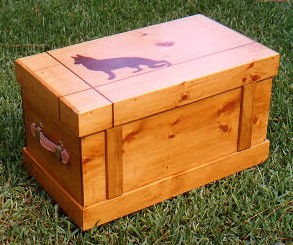 TACK BOX
A 'must' for every dog fancier, this eye-catching, roomy storage box is perfect for blankets, working dog gear, show paraphenalia, 'anything' that you might want to keep out of sight but handy in the home, kennel or motorhome. Can be built in your choice of woods, has side handles for easy carrying and a sturdy, hinged lid. Top has contrasting inlay accents and a breed motif.
Double-image head study and posed profile on Oak box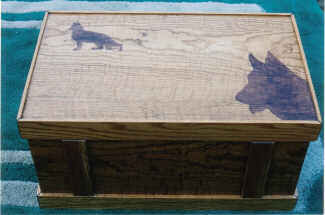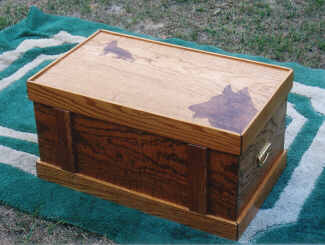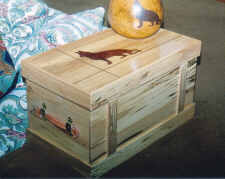 Spalted pecan tackbox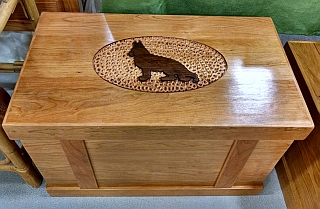 Carved Tack Boxes - Standing or Gaiting GSDs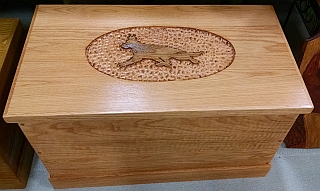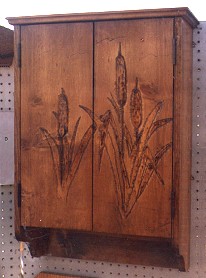 Wall-Mounted Ammo Box
This handy, shelved storage box is useful for all types of items. It can be crafted to any size specification. The cattail motif is hand-carved and this item also looks great with a GSD herding scene or various other motifs.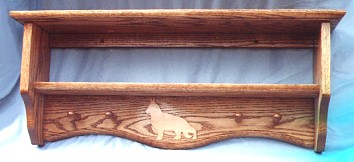 Wooden Shelf
This shelf can be crafted in one, two or three shelf versions or can come with an enclosed section as well. Various finishes are available.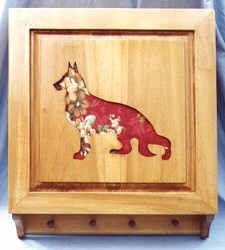 Wall-Mounted Storage Case
This is the ideal 'hide-away' for all those important items that need to be just within reach. The door has a magnetic latch with inner shelves and pegs beneath for hanging anything from leads to jackets. The GSD is done in a stuffed, upholstery brocade fabric or can be mirrored. Various finishes and breed motifs are available.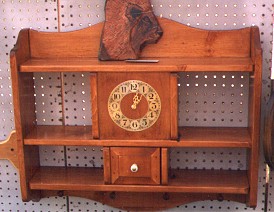 Shadow Box
Shadow boxes can be made to any size or specification, with or without clocks and/or drawers.
Prices available on request.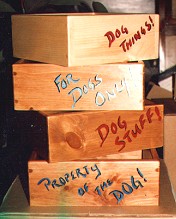 Doggie Toy Boxes
A favorite among our customers for years, the doggie toy box is solid wood, stained, sealed and handpainted. They are ideal for keeping the dog's toys gathered safely into one location and are sturdy and attractive.
Made in a variety of sizes, they start at $14.00.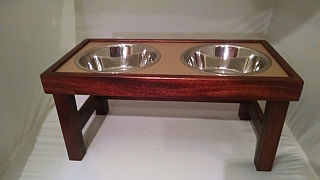 CLASSY DINERS
Crafted of your choice of fine hardwood and fitted with stainless bowls in a formica top for easy cleaning and durability, these feeding 'diners' are the ultimate for easy care and great looks.

The elevated dog diners can be crafted in your choice of woods or finishes.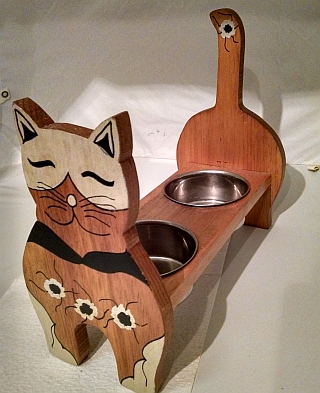 The cat diners can be made just as the dogs are or can be whimsical as shown in any of several motifs or can be custom designed.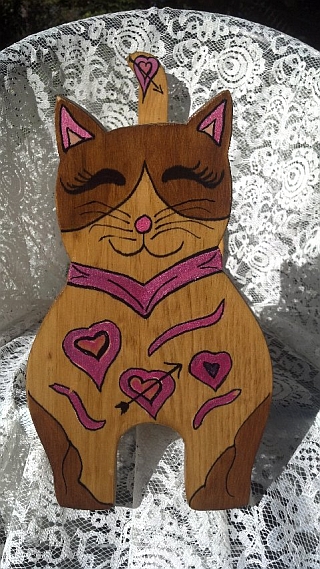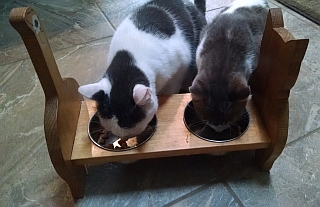 CALL OR EMAIL US FOR PRICES OR TO ORDER
706-825-6837